1-866-HairStart | info@hairstart.com
Treatments For Men
Men, New England Associates® Has the Answers For You!

Over 35 years of experience in the hair replacement industry has shown us what it's like for men to lose their hair. We know there are several reasons men lose their hair and we understand how to combat the problem.

When a person first starts to experience hair loss, they may not be aware there are many alternatives. Hair transplant physicians typically recommend a follicular unit hair transplant (of one sort or the other). Surgery may be a good choice, if you have sufficient donor area, have realistic expectations, are in good health and are willing to undergo a surgical procedure for cosmetic reasons. Surgical hair restoration procedures may produce sufficient results these days if performed by qualified physicians and if you are a qualified applicant. Like most surgical procedures, hair transplantation has a certain amount of risk factors that should be discussed thoroughly with your physician before the procedure.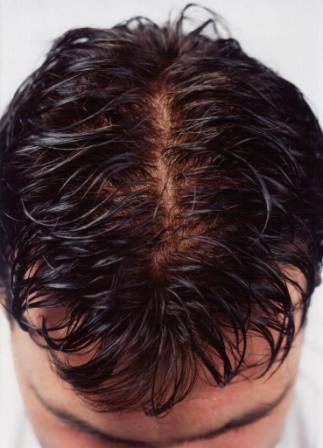 Others say you should have non-surgical hair grafting. With hair grafting you have your hair as thick as you like and long as you like, as quickly as you like. Utilizing your growing hair, hair grafting is a great alternative to thinning hair. With Hair Over Time™, subtle changes are made during each visit until you eventually have the hair you desire, without dramatic changes in your appearance. These non-surgical procedures, when performed by trained professionals at New England Associates®, can result in natural-looking hair with almost unlimited results.
But first let's start with the hair you already have. During your hair and scalp examination we'll examine your hair loss and determine how significant it is. If your hair loss is in its early to middle stages, we may recommend men attempt to slow the hair loss a client may be experiencing and at the same time attempt to grow their hair with a multi-therapeutic approach. Today this is happening at New England Associates® with HairStart®, utilizing scientifically proven products and devices that increase hair up to 93%!**

For men who have already experienced a significant amount of hair loss, surgical procedures or non-surgical hair grafting are additional options. All surgical options are performed by independent physicians with experience in hair transplantation procedures.

Utilizing the newest technology, the professionals at New England Associates® are here to help you Look As Good As You Feel!™

For more information, contact us for your first FREE appointment!
Why Men Prefer New England Associates®
• 35+ years addressing hair concerns for Men
• Confidentiality
• Professional caring staff
• HairStart® products and Laser devices
• Non-medical hair replacement, V Grafting, custom hair systems, hair programs, and more
• HairStart® Advanced Growth™ (Minoxidil with Saw Palmetto)
• An herbal alternative to Propecia, HairStart® Essentials™
• Replace or restore lost hair gradually over time
• Increased confidence because you know your hair looks good
• Private consultations & servicing rooms
• FREE microscopic hair and scalp examination


**International Journal of Cosmetic Surgery & Aesthetic Dermatology
---
New England Associates®
New England Associates® has been helping people look their best since 1982. Utilizing the latest advancements, we're able to repair, replace and restore lost hair. We're Accredited Members of the Better Business Bureau and the American Hair Loss Council and we've been voted "Best in Hair Replacement" five years in a row!
Home | Order Online | About Us | Contact Us | Free Brochure | Free Hair & Scalp Consultation | Free Laser Trial | Hair Loss Facts | Prevention | Options | Possibilities | For Women | Hair Lasers | Non-Surgical Options | Surgical Restoration | Testimonials, Photos, and Videos | Locations | HairGiant® | Policies & Disclaimer | Desktop Site | New England Associates®/HairStart® Blog | Facebook | Twitter | Google+ | Pinterest | Instagram

© 2017 Fearino's, Inc. All Rights Reserved.